The original tract of Cook Forest, part of which is occupied by Cook Riverside Cabins, was first purchased in 1826 by John Cook. Land was given to Anthony Cook and through his efforts, large tracts of land were preserved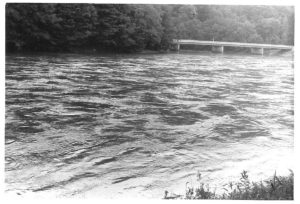 later to become Cook Forest State Park. The acreage, now known as Cook Riverside, was owned by Thomas Cook. He built the first of many Cook Forest cabins in 1928. By the time they were done, Mr. Cook and his crew built 18 cabins. Cook Riverside Cabin 1 is the oldest rental cabin in Cook Forest.
In 1968, Donald and Patricia Andrews purchased eight of the 18 cabins naming them "Forest View Cabins."
During 1969, Clarion Judge Robert Filson, Harold Heffner, Caroline Hetrick, J. Jerome Heffner, and Eugene Van Dale took possession of the remaining 10 cabins keeping the name "Cook Riverside Cabins."
During the ensuing years, the old Store moved to what is now Cook Riverside Cabin 7. A new log
structure was built in 1972, which is the cu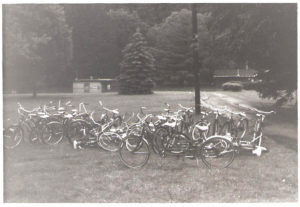 rrent location of Cooksburg Dry Goods and the U.S. Post Office.
In 1972, Hurricane Agnes flooded Cooksburg, reaching the U.S. Post Office and Cooksburg Café.
Cook Riverside Cabin 13 was built in 1974.
In 1991, Mike and Cheryl McMurray purchased Cook Riverside Cabins.
Shortly thereafter, the small motel was remodeled entirely and made into what is now Cook Riverside Cabin 15, also known as the Knotty Pine Lodge.
Four Forest View Cabins were added to Cook Riverside in 1994 –  Cabins 7, 8, 14, and 18.
Cabin 16 was obtained from a private individual in 1996.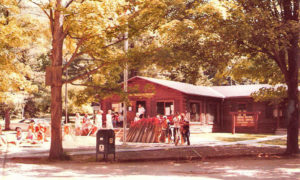 Cabins 9 and 19 were acquired in 2007 from Dr. John Thomas for a total of 19.
During the spring of 2016, Matt and Stacie Kaye purchased Cook Riverside Cabins from the McMurray's joining Cook Riverside Cabins with the Kaye's other properties, Fair Winds in the Forest Cabins and Lodge and Whispering Oaks Cabins, for a total of 36 cabins in the Cook Forest Area.
Discover more about the history of Cook Forest at PA DCNR Cook Forest History.