Check In: 4:00 to 7:00 p.m. at our office at Cooksburg Dry Goods located on River Road at 115 Riverside Drive,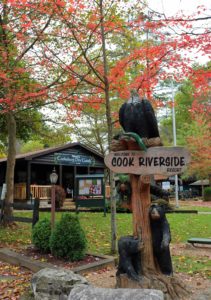 Cooksburg, PA. Please call 800-680-0160 if you are arriving late.  If you arrive after the store closes, your keys will be hung outside the door in an envelope.
Check Out: 10:00 a.m.
Keys:  When departing, please lock the doors and take keys to the staff at Cooksburg Dry Goods or place them in the key drop box to the right of the store door.
Cooksburg Dry Goods Current Hours:
Monday – Thursday   9:00 am to 5:00 pm
Friday                            9:00 am to 8:00 pm
Saturday                       9:00 am to 5:00 pm
Sunday                          9:00 am to 4:00 pm
*Hours fluctuate by season so be sure to check back closer to your visit.